Ways to help your drought stricken grass and gardens
The drought we have seen in Louisiana over the past 3 months has been an unusual one. We are currently over 7 inches below what we normally get in terms of rainfall and this is causing some impacts we do not usually see in the State of Louisiana. First, we have seen many wildfires across the state because of the dry conditions. We have also seen many trees and grasses start to die because of the lack of rain.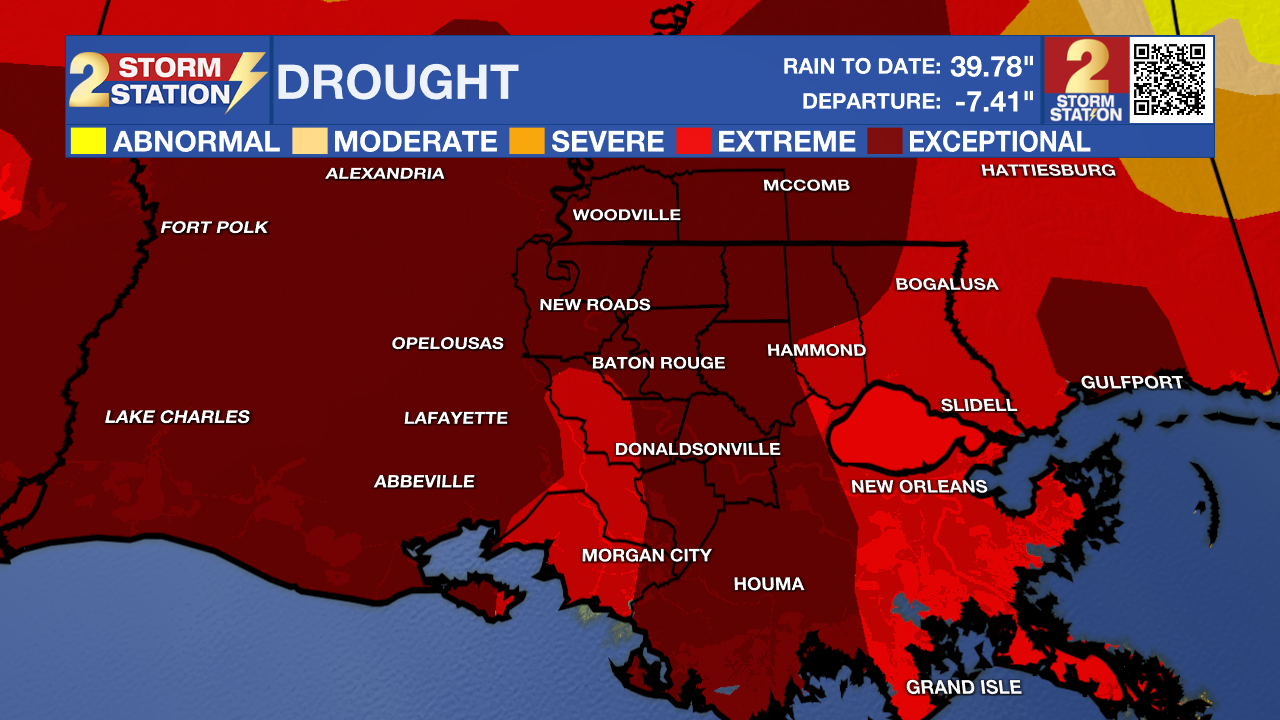 You might have noticed that it has started to look like fall earlier than normal because of the amount of trees and grasses that are dying. What you are seeing is the plants going into survival mode to fight the dry conditions. Plants and trees cool themselves by transpiring. This is where they eliminate excess water. With no water to eliminate, they can not efficiently cool themselves. This causes plants and trees to go into early dormancy and drop their leaves. They will then reduce or stop their growth until more normal conditions occur.
There are several things you can do for your plants, trees, and grass during these drought conditions:
- Water plants and grass in the early morning before the sun comes up, and in the late evening after the sun goes down. This limits evaporation.
- Raise lawn mowing blades or don't mow at all. Grass is already growing very slow or not growing at all at this time. Mowing will only put more stress on lawns and slow the growth even more. Instead, focus on watering your lawn at the times mentioned in the first point.
- Put any plants in the shade if you can. This can help plants from not scorching from the sun.
- Put mulch around any plants or flowers. This will help keep the soil cooler and also reduce evaporation of water from the soil.
There are also several things you should not do:
- Do not use herbicides on lawn. This can apply additional stress to grass. Instead, hand pull any weeds.
- Do not do any pruning to plants. This will cause additional stress to plants. After we return to normal temperatures and rain amounts, you can then cut off parts of the plants that have not survived.
- Do not fertilize plants, it will encourage them to grow. Since there is no water to support that, it will put additional stress on plants and damage their roots. Also, with the soil being so dry, this will increase potential for the fertilizer to runoff into lakes/ponds, which can then increase pollution.
We will not know the full extent of the damage from this drought till we get back to more normal conditions. There is definitely a possibility that some plants and trees will not survive.
More News
Desktop News
Click to open Continuous News in a sidebar that updates in real-time.