Uber unveils Mardi Gras plan called 'The Box'
NEW ORLEANS – Uber unveiled its new plans for Mardi Gras weekend, and it's called "The Box."
The company says that road closures will make it difficult for its drivers to cross St. Charles Ave. "The Box" is the area designated between St. Charles Ave to the Mississippi River and Napoleon Avenue to Canal Street.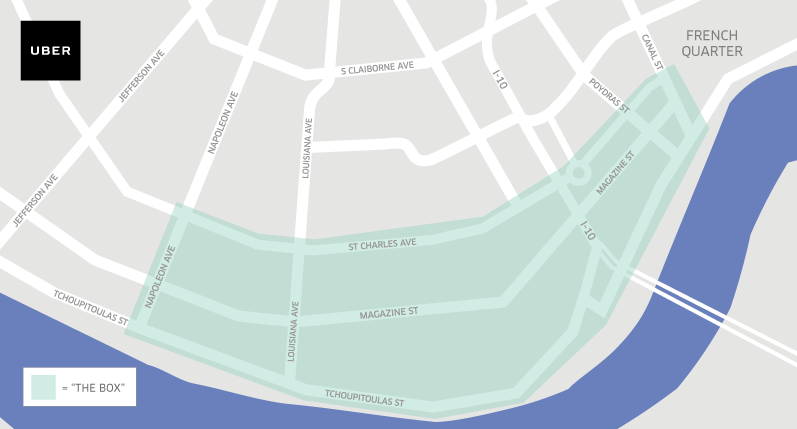 Uber riders who want to travel somewhere in that designated zone can requests rides as usual. But, if you want to go to a destination outside "the box," you will have to walk outside of the zone to request a ride.
Uber said the company will have drive-partners operating both inside and outside the box during Mardi Gras weekend. The company also offers these tips if you are planning on requesting a ride:
Know before you go: Before you request an Uber, you'll see the total cost of your ride so there are no unwelcome fare surprises after your ride is over. Fares may go up or down based on how many people are requesting a ride, so if it's out of your price range, check back later for lower fares.
Split the fare: Share an Uber with your krewe and split the fare among multiple people. uberX can seat up to 4, while uberXL can handle groups up to 6 passengers.
Confirm your driver: There will be multiple people requesting rides after parades, so make sure you get into the right car with the right driver. Double check your driver's car model, license plate, and photo in the app before you hop in your ride. Uber rides can only be requested through the app, so never accept street hail solicitations from those claiming to be Uber.
Share your trip details: Need to let your group know when you'll arrive? Share your trip details with them from the app.
Be nice or leave: Mardi Gras should be a fun time for all so please be considerate to your driver. respect their vehicle and follow our Community Guidelines so that everyone can enjoy the spirit of the season.
Avoid a cleaning fee: Make sure you don't get caught up in a cleaning fee cleaning fee by keeping the costumes and glitter in check.
Contact Support Leave your mask behind? Don't worry, you can contact your driverdirectly in the app to track down a lost item. Or contact our Help Center for all other issues. For emergencies always call 911.
More News