Tuesday PM Forecast: one more warm day before thunderstorms
If you enjoy the warmth, one more afternoon in the upper 70s is ahead. A cold front will bring the need for layers again by the end of the week.
Tonight & Tomorrow: Low clouds and patchy fog are expected overnight. Low temperatures will be well above average for the time of year, stopping in the low 60s with southeast winds of 5-10mph. Fog will dissipate to some sunshine through the first half of Wednesday. High temperatures will make it into the upper 70s and low 80s with a south wind of 10-20mph. A cold front will approach the area later in the day. Initially, some showers and thunderstorms will try to pop during the afternoon. A better organized line of rain and thunderstorms is then expected between 5 -11pm. Especially along the line, one or two storms could produce strong, gusty wind. The Storm Prediction Center has assigned a Level 2/5 "Slight Risk" for severe weather.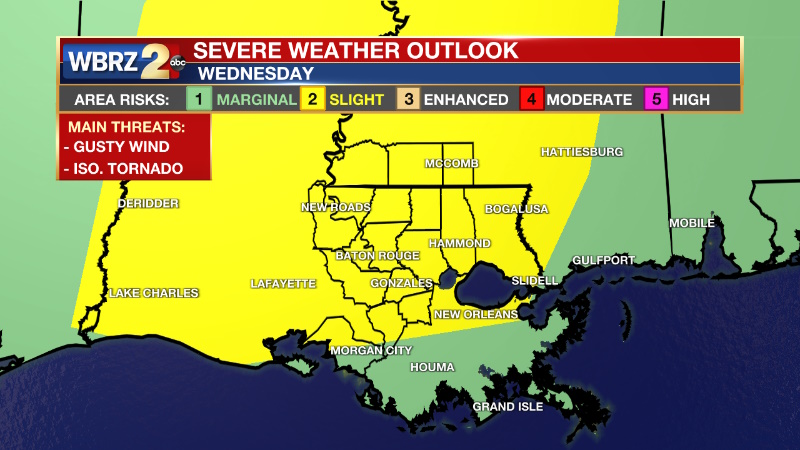 Up Next: The cold front will push through by Thursday morning with rain likely finished before dawn. Gradual clearing is expected into the afternoon hours. The cold air mass trailing the front will really build in on Friday. Though temperatures may begin the day in the 40s, they will not get much farther than the mid 50s. Some clouds may even pass as the cold air mass arrives, but no precipitation is expected. Plan to bundle for Mardi Gras parades next weekend with highs in the 50s and lows in the 30s. It will be dry though.
---
Get the latest 7-day forecast and real time weather updates HERE.
Watch live news HERE.
---
Detailed Forecast: South winds will continue to increase low level moisture overnight into Wednesday. These conditions will be supportive of fog, especially for marine areas. Inland development is a bit more questionable due to elevated wind speeds and the presence of an existing low cloud deck. Fog should begin to dissipate by mid to late morning on Wednesday as surface heating takes place. Then, a sharp upper-level trough of low pressure will move into the Mid-South pushing a cold front into the local area. Initially, some showers will pop in the afternoon as instability maximizes with daytime warming. A more organized squall line is expected a little after dusk which is when shear should be at its highest. So, while the ingredients for one or two severe thunderstorms appear to exist on Wednesday, there is some question as to whether they will overlap in the late afternoon and early evening. No matter what, the most favorable upper-level winds will stay well north of the area all day and so this event has limited potential, at best. By Friday, upper-level trough will be amplifying across the region with a strengthening surface high pressure system to the west. These two features will initiate a push of colder and drier air into the local area. Temperatures will be well below average from Saturday morning through Sunday afternoon. Lows should reach the mid-30s both mornings this weekend. By early next week a warming trend begins to take shape as an upper-level ridge of high pressure builds into the region Monday. The strong surface high will begin to move into the Eastern U.S., which will bring return flow at the surface. By the middle of next week, the next frontal system will approach.
--Josh
The Storm Station is here for you, on every platform. Your weather updates can be found on News 2, wbrz.com, and the WBRZ WX App on your Apple or Android device. Follow WBRZ Weather on Facebook and Twitter for even more weather updates while you are on the go.
More News