Justice of the Peace resigns hours after WBRZ report
NEW ROADS- Pointe Coupee Parish Justice of the Peace Randy Guidroz submitted his resignation to the Louisiana Secretary of State's Office and the Louisiana Judiciary Commission on Tuesday.
It came less than 12 hours after a WBRZ Investigative Unit report highlighting a recommendation by the Commission to suspend Guidroz for 180 days without pay. The Commission referenced the WBRZ Investigative Unit stories in their findings.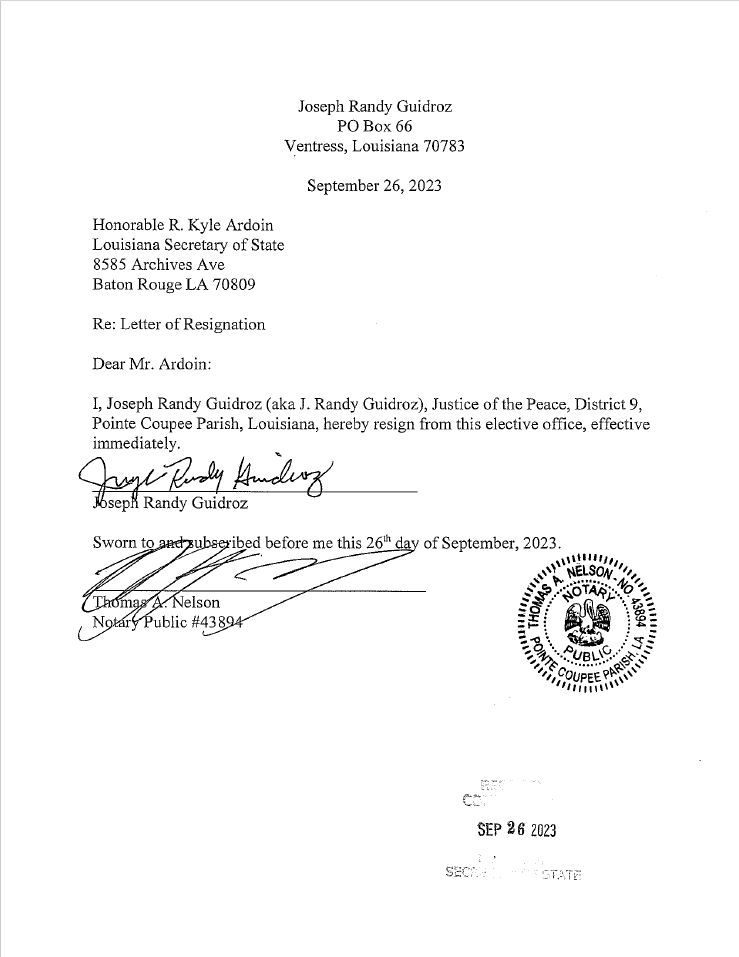 Randy Guidroz collected more than $500,000 over a 12-year span and there was no proof that he did any work.
In addition to being a full-time "intelligence officer" for the Pointe Coupee Parish Sheriff's Office, the WBRZ Investigative Unit also found Guidroz was an elected official. He was a Justice of the Peace in the parish.
The state's dual office holding laws say Guidroz should have never been allowed to do both jobs.
Louisiana Revised Statute 42:63 states, "No person holding an elective office in the government of this state shall at the same time hold another elective office, a full-time appointive office, or employment in the government of this state or in the government of a political subdivision thereof."
Guidroz resigned Tuesday as the WBRZ Investigative Unit was looking into allegations of even more impropriety.
Videos obtained by WBRZ showed Guidroz at the campaign building of La. State Representative Jeremy Lacombe. Lacombe told WBRZ on the phone they are friends, and said he had never hired him.
Campaign finance reports that Lacombe filed with the State Ethics Board show on two different occasions Lacombe hired Guidroz for a catering event. A third miscellaneous payment to him for $700 was not noted with a reason. Lacombe said it was also for catering, but did not have a reason why nothing was noted next to that payment.
More News
Desktop News
Click to open Continuous News in a sidebar that updates in real-time.