Wednesday AM Forecast: Midweek forecast trending dry and warm
As we watch September come to an end, we are going to carry the 90 degree temperatures into October with us. Dry air will also begin moving in tomorrow night and in result will usher in the weekend and new month with little no rainfall and less humid conditions. Fall weather is on the way, just not in the next 7 days.
Today & Tonight: Today we will experience another warm and humid day in southern Louisiana. While we are less likely to be caught in a shower, the chance for a spotty storm does remain, especially during afternoon hours. Highs will be in the lower 90s under partly sunny skies
Tonight temperatures will settle into the lower 70s with no chance of rain under mostly clear skies.
Up Next: Mother Nature ushers another shot of dry air into southeast Louisiana through the rest of the week. While there may be just enough moisture to pop a shower on Thursday, most will remain dry yet again. On Friday and over the weekend, the metro area is looking warm and dry with a slight breeze. Highs will end up in the low to mid-90s.
The humidity will also be tapering off this weekend. By early next week, long-term data indicate that the humidity will return to more comfortable levels. Unfortunately, that will only reinforce the dry streak of weather.
---
Get the latest 7-day forecast and real time weather updates HERE.
Watch live news HERE.
---
The Tropics: Tropical Storm Philippe is still moving west around 12mph across the central Atlantic. Satellite imagery reveals a rather disorganized storm. Philippe will take a northwest jog in the coming days with little change in strength. The storm will then gradually weaken and become post-tropical over the weekend as it tries to drift north of the Leeward Islands.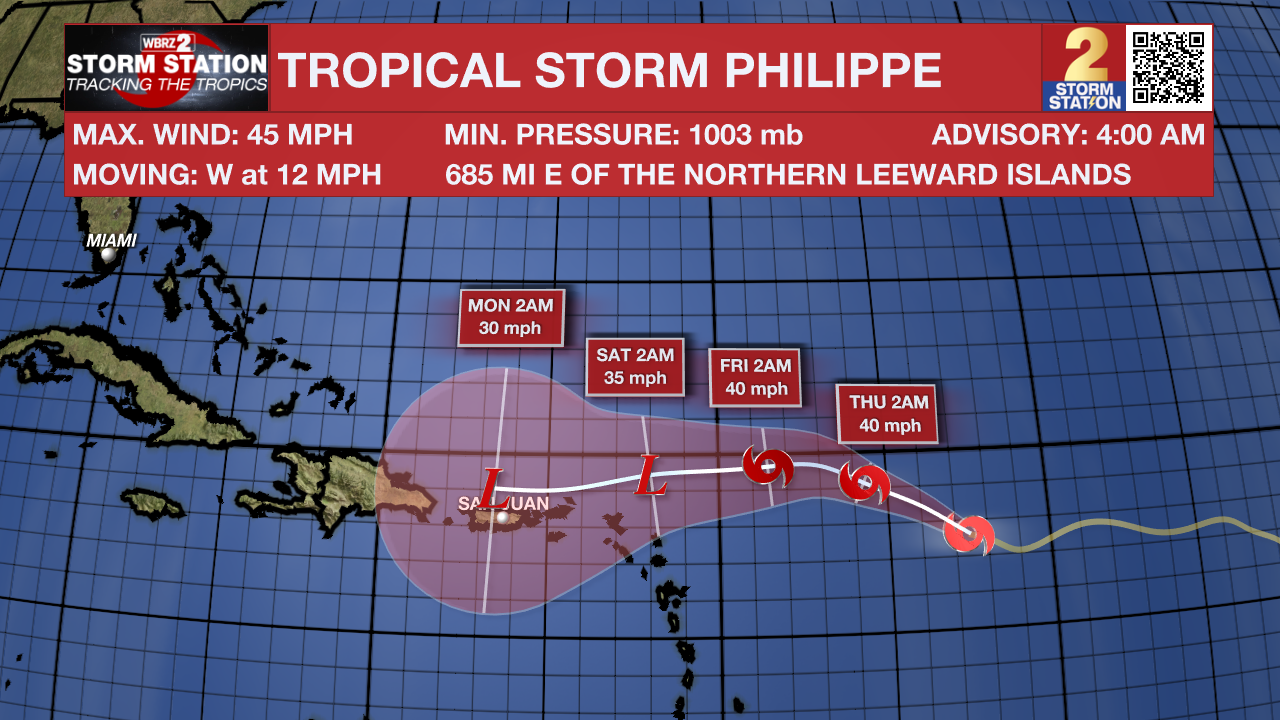 Meanwhile, another area of showers and storms located halfway between the Cabo Verde Islands and the Lesser Antilles is showing signs of organization. This tropical wave will likely become a tropical depression in the next day or two as it moves through the central tropical Atlantic, taking a similar path to that of Philippe. It has a 90 percent chance to develop into a tropical depression in the next 48 hours.
--Emma Kate Cowan
More News
Desktop News
Click to open Continuous News in a sidebar that updates in real-time.