Tuesday PM Forecast: Dry air flushes out our storm chances
Many had to dodge storms for another afternoon on Tuesday. This time, the metro area was a little luckier in terms of rainfall. However, our luck runs out in the days to come as moisture slowly but surely fades away.
Tonight & Tomorrow: The isolated storms from Tuesday afternoon will taper off during the evening hours. We'll see skies turning mostly clear overnight and into Wednesday morning with low temperatures in the lower-70s.
Wednesday will be a rather uneventful day from a weather standpoint. It'll be warm and humid with highs in the low to mid-90s along with partly sunny skies. While a spotty storm or two can't be ruled out, most will stay dry.
Up Next: Mother Nature ushers another shot of dry air into southeast Louisiana through the rest of the week. While there may be just enough moisture to pop a shower on Thursday, most will remain dry yet again. On Friday and over the weekend, the metro area is looking warm and dry with a slight breeze. Highs will end up in the low to mid-90s.
The humidity will also be tapering off this weekend. By early next week, long-term data indicate that the humidity will return to more comfortable levels. Unfortunately, that will only reinforce the dry streak of weather.
---
Get the latest 7-day forecast and real time weather updates HERE.
Watch live news HERE.
---
The Tropics: Tropical Storm Philippe is still moving west across the central Atlantic. Satellite imagery reveals a rather disorganized storm. This is unsurprising given that Philippe is operating in a hostile environment. Philippe will take a northwest jog in the coming days with little change in strength. The storm will then gradually weaken and become post-tropical over the weekend as it tries to drift north of the Leeward Islands.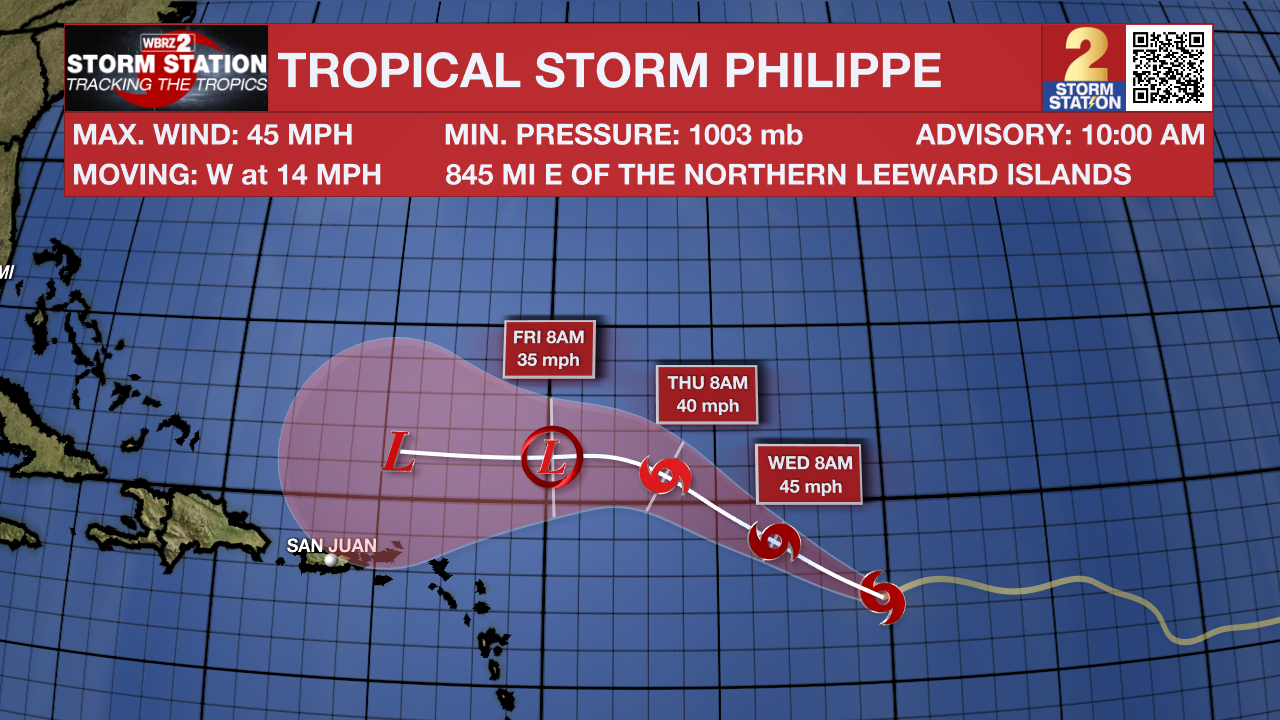 Meanwhile, another area of showers and storms several hundred miles west-southwest of the Cabo Verde Islands is showing signs of organization. This tropical wave will likely become a tropical depression in the next day or two as it moves through the central tropical Atlantic, taking a similar path to that of Philippe.
-- Meteorologist Malcolm Byron
More News
Desktop News
Click to open Continuous News in a sidebar that updates in real-time.