Report: Louisiana tops in sales taxes for 2023
BATON ROUGE - Louisiana taxes its goods and services at a rate higher than any other state, according to a study by a nonprofit group that tracks national taxation data.
The Tax Foundation's 2023 report shows Louisiana's combined state and local sales tax rates are highest in the nation. The Number 1 ranking is driven largely by the local component, which can be as much as 7 percent, but which averages 5.1 percent (second highest in the nation).
The combined rate a Louisiana resident could expect to pay on a purchase is 9.55 percent, according to the report. That number is fractionally ahead of Tennessee (9.548 percent) and Arkansas (9.46 percent), which placed second and third in the rankings.
Five states have no statewide sales tax. Of them, four -- Delaware, Montana, New Hampshire and Oregon -- also do not allow for local sales taxes. Their combined rate is zero.
The report notes that other considerations will affect how much someone pays in taxes. Among them: What a state exempts from sales taxation (some states fully tax groceries, for instance; Louisiana does not) and how much of an income tax is levied by a state and local government.
Additional detail on the Tax Foundation report is available here.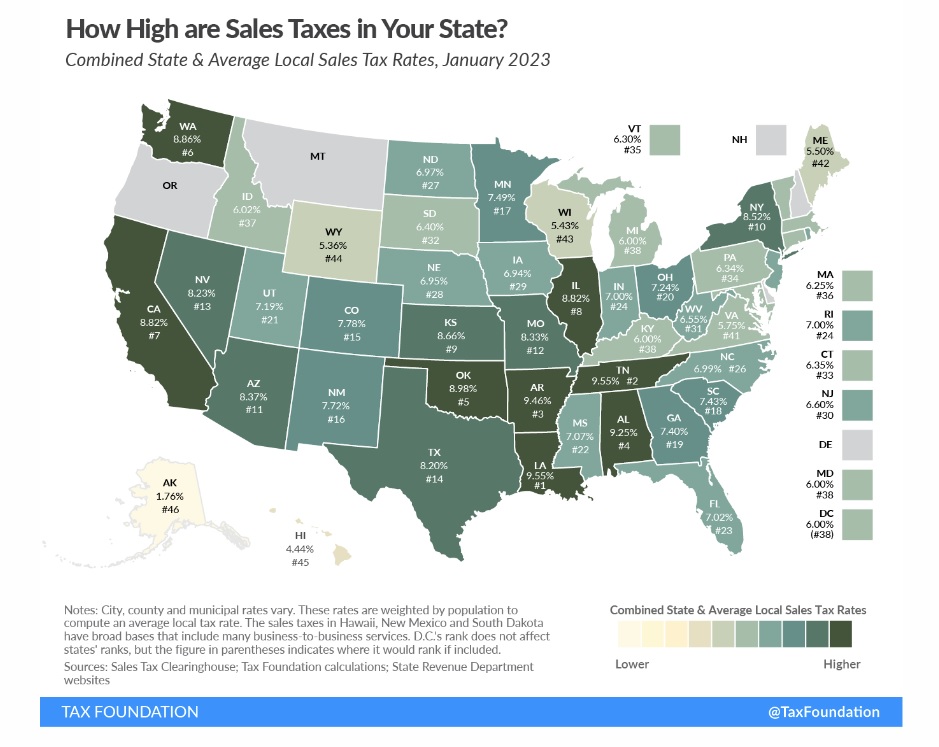 More News