Officials announce date for memorial services, donations planned for victims of BRPD helicopter crash
BATON ROUGE - The fatal police helicopter crash that left Sgt. David Poirrier and Cpl. Scotty Canezaro dead has left the community saddened and shocked.
A motorcade escorted the remains of both officers back to Baton Rouge late Wednesday morning. They were taken to BRPD headquarters on Airline Highway where they were saluted by Mayor Sharon Weston Broome, Chief Murphy Paul and their fellow officers.
Working in the air support unit, the pair had more than three decades of police experience between them. Both were licensed helicopter pilots and tactical flight officers.
A fellow airman described both Poirrier and Canezaro as experienced and conservative pilots.
In 2019, the duo was even awarded "Officers of the Month" by the police department for their part in assisting with several pursuits.
"It's always better to have two people than one because I can concentrate more on flying and looking and have another set of eyes with me," Poirrier said in an interview with the Police Union in 2022.
Just a little more than a year ago, Poirrier and detective Dustin Conde helped locate a missing eight-month-old baby who spent the night in the woods in the Central area. WBRZ spoke to him about the rescue.
"Everything just fell into place with a joint effort of everyone from the very beginning. The hospital, the fire department, all the way search and rescue, K-9. All the way through or we wouldn't have had a successful outcome."
Their work wasn't just exemplary while on the clock, both officers were active in the community. Canezaro often took his chopper to schools and events to teach kids about the aircraft.
Both men leave behind children. According to Poirrier's social media profile, he had just been promoted to sergeant two weeks before the accident.
The Baton Rouge Police Department announced funeral services would be held on Thursday, April 6, at Istrouma Baptist Church. Visitation will be held from 9 a.m. to 11 a.m., and the service will start at 11 a.m..
Donations can be made for the families of the fallen officers in multiple ways, which can be found below: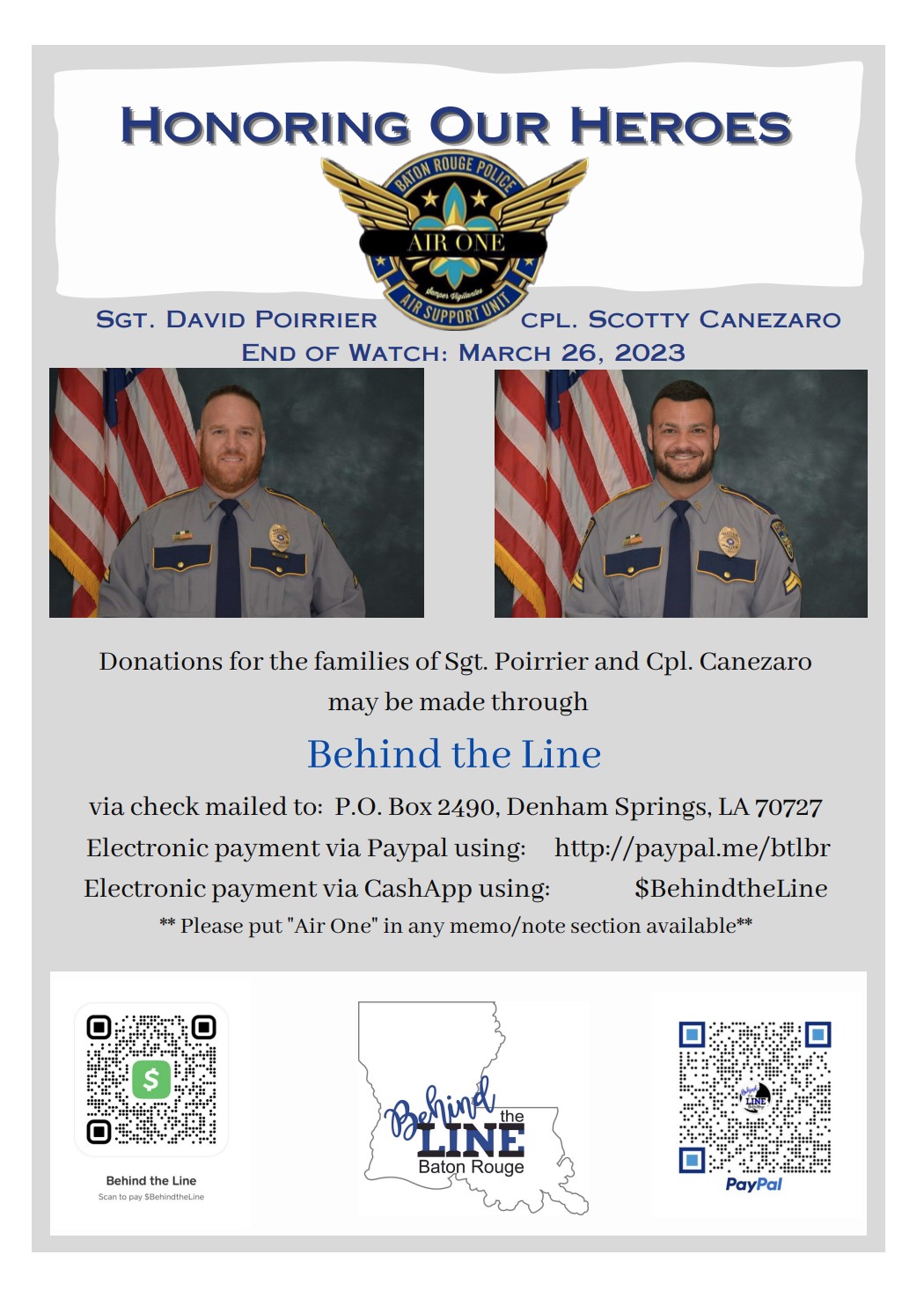 More News